This month our Founder and CEO will be speaking at two incredible events about the intersection between plant-based and business!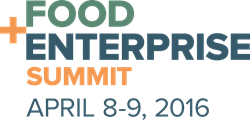 First join us on Friday, April 8th in Brooklyn's famed Pfizer Building for the Food + Enterprise Summit. David will be moderating a panel titled "Funding an Ethical Food Economy: Plant Based Ventures" about investment in the plant-based sector with speakers from The Good Food Institute, VegInvest and VegFund. On Saturday, at the same conference, David will serve as an expert in the mentoring Expert Exchange session where food entrepeneurs can ask him questions about running a packaged food business. Buy your tickets today!
Then, on Earth Day (April 22nd, of course), David will be speaking at Green Monday's Earth Day Forum in Hong Kong about why the plant-based sector is such a hot area for amazing investors and entrepreneurs, alongside investors Sebastiano Cossia Castiglioni of NKGB Strategic Advisory and Chris Kerr of New Crop Capital. Green Monday is leading the global movement in sustainability so this is sure to be an exciting event. Learn more and register today!